When do I need to insure my vehicle with commercial auto insurance vs. personal?
Plenty of Gray Areas with Contractor based driving. Do you need commercial car insurance? Let's discuss…
First there was the pizza guy. Now there are all kinds of delivery guys! There are more and more companies seeking individual contractors to deliver food (and people!) to their destinations. Places like Uber and Lyft are slowly starting to become big employers due to the flexible hours and nice sign on bonuses.
Personal vs Commercial Car Insurance:
You have to have your own personal auto insurance before you can drive with these companies. Delivery companies such as Uber and Lyft will also cover you with their own version of  commercial insurance while you are logging trips with them. They break the ride up into four stages – all of which have different coverage.
The stages and insurance coverage look something like this:
● Offline (not logged into the app – your personal coverage)
● Available (Logged in, waiting for requests – liability only)
● En Route (Accepted a request – the companies insurance is in full force)
● On Trip (Passengers are in the car – companies insurance is in full force)
The fact these companies provide limited commercial car coverage for their drivers is pretty sweet! A lot of drivers think that's enough. Do you? I'll give you a hint – it's not.
Avoiding The Gray Area of Insurance Coverage:
Let's say you are in the available stage… you are driving around waiting for a passenger. Next thing you know, another car rear ends you. There is a lot of grey area during this phase – your personal policy is basically non-existent because you were logged into the app. But because you were waiting for requests, whoever you drive for won't have their full policy in effect. How do you avoid the grey area? Commercial car insurance.
Getting Commercial Car Insurance: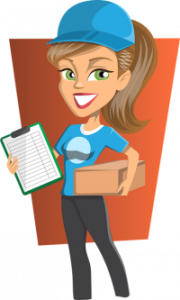 Some states (and even some insurance companies) require commercial coverage if they discover you are a driver for any of these companies (which we don't recommend you withhold that information). They may feel as you are more of a risk and want you to be properly covered.
Commercial insurance works just like personal – somethings are required. Somethings are optional. If you are someone who drives for a rideshare company, give us a call. We will gladly help you figure out what amount of coverage is best for your needs.